Kids Dentistry Sydney
High-Quality Dental Care For Children of All Ages
Kids Dentist Sydney
High-Quality Dental Care For Children of All Ages
A kids dentist children love to visit

Just like you, your child also needs the best possible dental care they can get. Here at My Local Dentists, we believe in providing a warm, friendly and caring environment for your children. Our friendly team make visits to the dentist both fun and educational, so they can't wait to come back for more. We are on a mission to help our community's kids obtain and maintain optimal oral health.
Our clinic provides comprehensive children's dentistry services, including early intervention orthodontics. This helps ensure your child's adult teeth are coming through properly and helps prevent a crooked smile and the need to wear dental braces.
Why should I visit a kids' dental specialist?
Childhood is a crucial stage of a person's dental journey. Often, an individual's dental problems begin early in childhood. Our kids' dentist recommends starting your children's dentist visits as early as 12 months of age or when their first tooth emerges. It is crucial to get young children used to visiting the dentist. Some common dentistry treatments performed by our kids' dentist at our clinic include dental scaling and fluoride treatments, orthodontic correction of crooked teeth, cavity restorations, repair of fractured teeth, correction of oral habits like teeth grinding, clenching, thumb sucking, etc.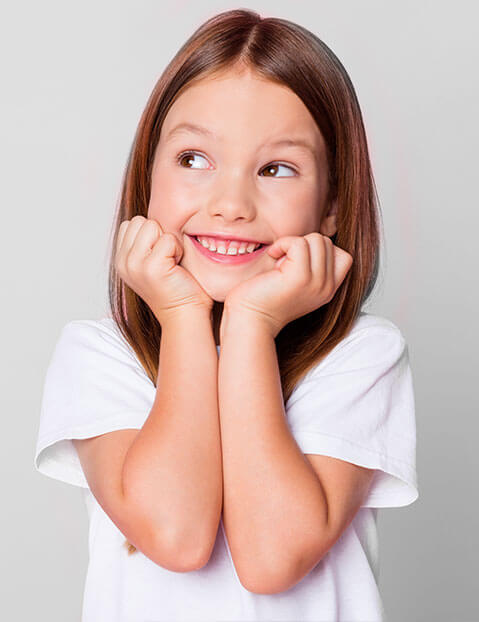 What can I expect from a kids' dentist?
We want the best for your kids, whether it's preventive dentistry, tooth fillings, orthodontic care, or just a general paediatric dental check-up and cleaning. So give our children's dentist a call today or book an appointment through our website.
 Child/Paediatric Dentistry FAQ's 

How often should kids visit a children's dentist?
We recommend getting your children in for a dental check-up every six months. That way, we can identify cavities and other dental issues early on.
What diet should you give your kids to prevent tooth decay?
You should always ensure your child eats a healthy, balanced diet with plenty of fruit and vegetables. In addition, you can give them milk and dairy products for calcium and eggs, meat and fish for protein. Do not overdo servings of carbohydrates and sugar like bread, sweets, chocolate etc.
What do I do if my child knocks out a tooth?
You should remain calm and look for the tooth. Hold it by the white portion instead of the root and insert it back into the socket. If you can't reinsert the tooth, place it in a cup of milk and bring your child, along with the tooth, to our clinic immediately.
Book Your Appointment At My Local Dentists Today!
QUALITY DENTAL CARE IN SYDNEY