Invisalign Sydney
Discreet orthodontics with ClearCorrect, SureSmile, and Invisalign aligners
Invisalign Sydney
Discreet orthodontics with ClearCorrect, SureSmile, and Invisalign aligners
Avoid the metal mouth appearance with invisible dental braces

Invisalign, ClearCorrect, and SureSmile aligners are the ideal option in orthodontics for individuals wanting perfectly aligned and straight teeth without the "metal mouth" appearance.
Unlike traditional braces in dentistry that employ fixed metal brackets and wires, modern aligners such as Invisalign are removable, clear and virtually undetectable.
Comprising a series of custom clear plastic trays, Invisalign, SureSmile and ClearCorrect aligners are worn by patients to correct mild-to-moderate tooth misalignments.
The custom-made trays are designed to move teeth gradually and discreetly into their proper positions in the mouth.
Call us to book for an Invisalign consultation today.
Clear aligners vs traditional brackets
Clear aligners are clinically proven to be as effective as traditional braces in correcting mild to moderate tooth alignment.
Dental problems, including crowding, crooked teeth, overbite, and gap teeth, can be corrected using SureSmile, ClearCorrect and Invisalign clear aligners. Our patients can gradually have their teeth and gums guided into their proper positions in the jaw without compromising on their appearance.
Unlike fixed metal or ceramic braces, it is easy to remove Invisalign aligners available from our Sydney practices, making good oral hygiene effortless. You can brush, floss, eat or drink whenever you want without worrying about metal wires or dental brackets getting dislodged or damaged!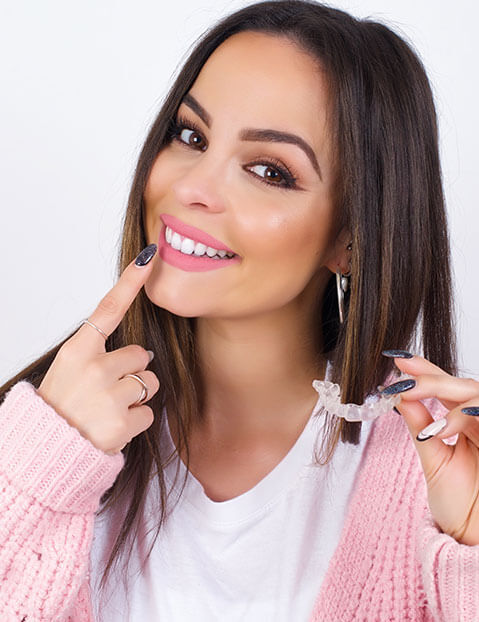 Invisalign Aligners – Teeth Alignment Process
If you are hoping to transform your smile with Invisalign clear aligners with us, then call or visit our clinic in person to schedule an appointment. We also offer Invisalign alternatives, including ClearCorrect and SureSmile, at our clinics to save on cost.
Invisalign Teeth Alignment FAQ's – Frequently Asked Questions

What makes Invisalign aligners the best choice for adults and teenagers?
Clear aligners offered in our clinic are virtually invisible. The Invisalign aligners are made from an FDA recommended transparent material that is undetectable and discreetly moves the teeth into their specific positions in the mouth. Thus, they are perfect for teenagers and adults concerned about their cosmetic appearance during the treatment process.
Are Invisalign aligners comfortable?
Clear aligners or invisible braces available from our clinic are custom-made for each individual. We use modern state-of-the-art technology to capture digital impressions of the patient and produce highly customised clear aligners. Your Invisalign aligners will sit comfortably on your teeth and gently straighten them with no added pressure on the surrounding structures. Gone are the blisters and sores caused by poking wires and brackets in your mouth!
Do I still have to go for monthly appointments with Invisalign aligners?
You will still need to visit your dentist regularly during treatment. Every patient is different, but on average, we can reduce the frequency of your dental appointments with the ClearCorrect aligners on offer at our clinics to every 6-8 weeks. As a result, you save time travelling to and from the dentist.
How to care for my Invisalign aligners?
You should always take care of your clear aligners. You can use a dental cleaning solution which is available in most pharmacies. You should brush your Invisalign trays daily with toothpaste and a toothbrush and rinse them with lukewarm water. Avoid using hot water as this will distort the aligner and affect its fit.
After Invisalign Treatment, Your smile could look like this: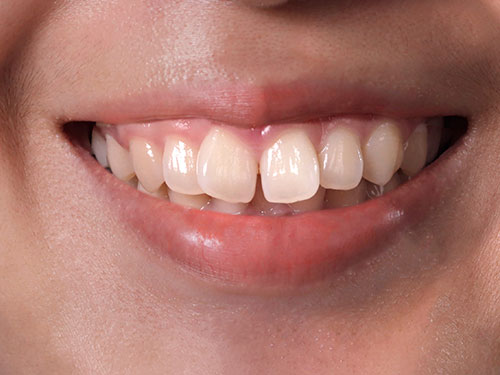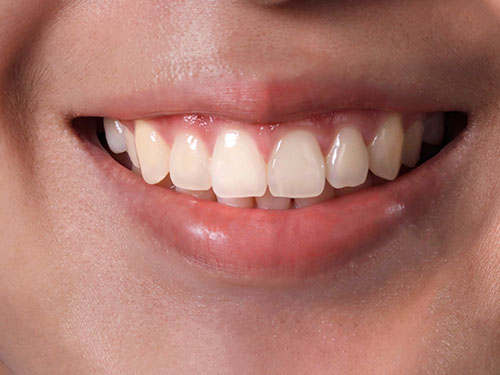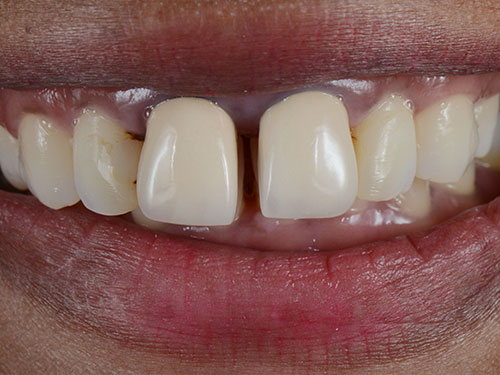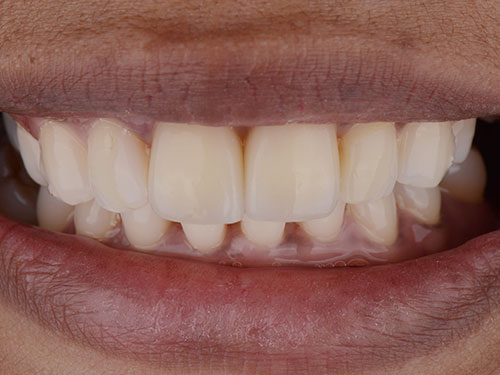 Book Your Appointment At My Local Dentists Today!
QUALITY DENTAL CARE IN SYDNEY